Hey ladies & gents! I'm really psyched to be writing a little guest post for Mrs. Robinson. Isn't she lovely? She's so kind & I'm really happy I've gotten to know her through blogging.

My name's Jillian (feel free to call me Jill!) & I am an entrepreneur, blogger, photographer, creator, philanthropist & designer. I truly believe that you can have a good time & still do good for your world. With that thinking, I started a small company called my Remedy a year ago. I created my Remedy to ignite a movement of living in love & to create a community of positivity (yep, I made that word up. haha.). It's not just a brand; it's a lifestyle.

I focus on eco-friendly printed apparel that has encouraging messages, as well as hand-crafted jewelry & graphic design. I also put on & partake in events that have a charitable donation as a goal. My company is my dream come true & my passion. I'm on this journey to figure out how to live a life in a loving way & I'd be honored for you to come along for the ride. Let's figure this out together. Please check out my online shop, twitter, blog & facebook. That'd make me crazy happy!
Another muse of mine is style blogging. I started my blog, Boyish Chic, in September. I've had a hard time identifying my own style, but I came to the realization that I don't really dress completely one way or another: I'm more of a mix between feminine & boyish. I can never dress completely girly (like a dress with high heels & bows & lots of jewelry) or really boyish (like baggy jeans, a baggy top & no makeup), but meet in the middle & I feel right at home (I'll take that dress & high heels & mix it with a baggy top & lipstick). Kind of make sense? Haha!
I loooove taking photographs & blogging. Not only do I think it's a good time, but I also think it'll be really cool to look back at what I wore down the line & to see how my style changes throughout time. Also, it's such an amazing gateway to meet other bloggers & be inspired on a daily basis. It's truly an amazing world here online. I post about different things - mostly fashion or what I'm wearing - but also about events going on in my life or DIY things I've created to share with you. I also love posting goofy .gifs just because I think they're entertaining & fun :]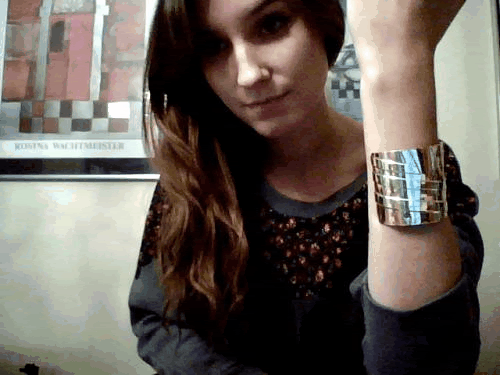 To celebrate being a guest on Mrs. Robinson's blog, I'm going to do a giveaway from a
$10 gift certificate for my Remedy!
I hope it will help you with your holiday gift giving or help you treat yourself to something special this holiday season.

Entering's easy! All you need to do is:

Follow Mrs. Robinson's blog.
Like the my Remedy Facebook page. Comment below that you've done so.
Follow my style blog. Comment below that you've done so.

Each of the following gets you an extra entry:

Follow me on Twitter & tweet about this giveaway with the link included and the word: RT. Be sure to @myRemedydesign or I won't know you did it! Comment below that you've done so
Comment on the Facebook page's wall what your favorite item from the shop is. Comment below that you've done so
Blog about this giveaway with the link. Comment below that you've done so
Follow the my Remedy blog. Comment below that you've done so

The winner will be chosen on Friday, December 23rd!
Thanks so much for having me, Megan & thanks to all who were interested in reading it. Your support means the world to me :]
Keep living in love,
xx. Jillian
shop online
//
style blog
//
facebook
//
twitter
//
shop blog